History
CBS Films is a production and distribution company that was launched by CBS Corporation in 2007. The company based in Brentwood California with 73 employees. The company is in charge of developing, financing, producing and marketing theatrical motion pictures. Since its establishment, the company has managed to create over thirty movies in 11 years. However, despite being launched in 2007, the company's first home production was in 2010 with a film titled "Extraordinary Measures." The company produces six films every year with a budget of $50 million for each film.
CBS Corporation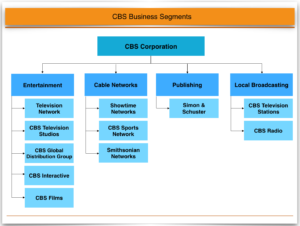 CBS Corporation is one of the most prominent American mass media corporations owned by National Amusements. The company produce, publishes and broadcasts in a different area. The company originally established by William Paley in 1928. Today the company has more than 200 television stations across the United States and is considered to be the world's fifth largest entertainment company regarding its revenue. During the 2016-2017 season, CBS'total network's lineup was watched by more than 127 million people a week (2018, March24, CBS News). CBS films were not the first film production company that CBS launched. In February 1967, CBS bought a Republic Pictures and established a new company called "Cinema Center Films." In its first five years, the company produced more than 25 films, with notable films like Little Big Man, and Big Jake. Despite such hit films, the company lost more money than it made. As a result, CBS closedCinema Center Films in 1972.
After eight years, CBS established a new company called "CBS Theatrical Films." Two years later, the company had to team up with HBO and Columbia Pictures to share the cost of the movie's production under a new production house called "Tri-Star Pictures. Tri-Star Pictures failed to generate any profit, which led CBS to sell their stake to Columbia pictures for a $48 million. In the twentieth century, CBS merged with Viacom, where the two companies' combined business included: The Paramount movie studio and the Showtime premium cable channel. In 2005, Viacom split into two publicly traded companies. 1- CBS Corporation "the CBS television network and related CBS entities, Showtime, and other media properties." 2- Viacom "Paramount and other cable channels, and assets."
The launch of CBS Films
In 2007 Les Moonves, "former actor and TV executive" decided to start a new movie studio under the CBS Corporation, which he named CBS Films Inc. Being part of the CBS corporation helped to promote CBS Films' pictures widely through CBS's television, radio stations, cable channels and billboard assets. In September 2007, the company signed Sony Pictures to distribute its wide-release films. CBS Films launched its first film in January 2010, "Extraordinary Measures" a medical drama with a $30 million budget. The movie failed to generate any profits for the company with 15$ million lost. Then CBS Films released two other films, The Back-Up Plan, and Faster. The former managed to make a decent profit, while the latter failed miserably. CBS Films shifted its focus from developing films to acquire independent films. In 2011, CBS Films paid $5 million to acquire the comedy film "Salmon Fishing in the Yemen". In 2012, "The Woman in Black." Become the company first major success. The film managed to gross $127.7 million worldwide, with a $13 million budget (The Numbers.com).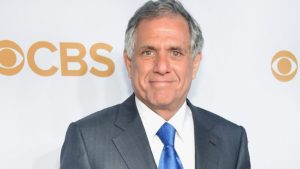 In 2014 CBS Films struggled to make any success, yet the company managed to sign a three-year distribution deal with Lionsgate. However, this was not the first deal that CBS and Lionsgate had made. Back in 2003 CBS Corporation had acquired half interest in Lionsgate's TV Guide Network. Nowadays, the news speculates that thetwo companies will merge very soon. The two companies teamed up to produce a thrilling movie titled "Patriots Day," The film was based on the Boston 2013 bombing, despite its high potentials, the film nearly covers its budget. With many disappointments, CBS Films new thrill "Hell or High Water" received massive acclaim in the Award show with three nominations in the Golden Globe and four in the Academy Award. Despite not winning any awards, the film believed to be the most exceptional work of CBS Films.
Strategy and competition
CBS Films plan is to release four to six films every year that cost under $50 million (CBS Films.com) Therefore, with a small budget, it is difficult for the company to compete with the Big Six major studios. In 2010, Moonves confirmed it to the Los Angeles Times "CBS wouldn't be competing with big effects-driven spectacles such as "Transformers" and "Spider-Man" that cost hundreds of millions to make and promote we're not in that game." (Eller, Claudia, and Amy Kaufman. "Prime Time for CBS Movie Bet?) January 11, 2010". CBS Films is considered to be a Mini-Major Studio, like Dreamworks and MGM . However, these small studios had produced commercially successful movies like (The Twilight Saga, The Hunger Games, James Bond…). Therefore, in spite of Moonves statements, and the low budget film strategy, CBS Films stand an excellent chance to compete with these major studios.
Brand & Assets
CBS brand "the eye" is the most-watched television network in the USA. CBS Films is a part of this big brand that include "CBS Television Network, The CW, Network Ten Australia, CBS Television Studios, CBS Studios International and others"
The 2005 Viacom/CBS corporate split, lead CBS to acquire and owns a massive films and television library "the love boat, the fugitive, Scrooge and My Fair Lady." The acquisition made CBS own many Shows and other material "Terrytoons entire library from 1930 and forward".
Business Model and Ownership
The development, financing, production and the marketing of the theatrical motion pictures are all being handled in the CBS Films studio. The company produces, co-produce and distribute films.  As for the oversee global distribution, CBS Films partners with other companies for the international distribution. As for the marketing strategy, CBS promotes their films with all its parent corporation's advertising channels "cable channels, billboards, TV and radio stations." People can also own CBS latest films from Amazon and iTunes on CBS Films website.
CBS premium cable networks Showtime and The Movie Channel hold the pay-cable rights to the new CBS Films' library. Whereas the U. S. home entertainment distribution and foreign theatrical and home entertainment distribution rights for all CBS Films "pre-2015 products" had been acquired by Sony Pictures Worldwide Acquisitions (Finke, 2009)
Revenue Models
CBS Films generate its revenue in various ways. Firstly, the box office revenue "domestically and internationally". That includes all the Films that have been produced or acquired by CBS Films. Secondly, is via the home entertainment, for example, the sale of the DVDs and Blu-ray D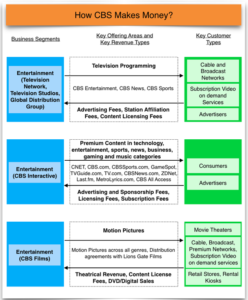 iscs and electronic rental. Lastly, other revenues come from different ways like "subscription video-on-demand, pay-per-view, free television, and basic cable, pay television, digital media outlets, the sale from other channels like the airlines and hotels.
According to CBS Corporation website, the first quarter of the 2018 revenue of the entertainment segment showed an increase of 16% in compare to the first quarter of 2017 (CBS Corporation.com).
| | | |
| --- | --- | --- |
| Revenues by Segment "first three months" | 2018 | 2017 |
| Entertainment segments | 2,716 | 2,347 |
39% increase of the Affiliate and subscription fees, 16% increase in the Content licensing and distribution and 11% increase of the Advertising from last year (CBS Corporation.com).
CBS Films future release
Les Moonves departure from CBS After a sexual allegation covered by ABC News:
References:
CBS corporation website https://www.cbscorporation.com/business/cbs-films/)
CBS Films Website https://www.cbsfilms.com
International Directory of Company Histories http://bi.galegroup.com.libezproxy2.syr.edu/essentials/article/GALE%7CCX3657000027?u=nysl_ce_syr&sid=summon
Dinger, Ed. "CBS Films Inc." International Directory of Company Histories. Ed. Steven Long, Derek Jacques, and Paula Kepos. Vol. 194. Farmington Hills, MI: St. James Press, 2018. 92-95. Business Insights: Essentials. Web. 17 Sept. 2018.
Eller, Claudia, and Amy Kaufman. "Prime Time for CBS Movie Bet?" Los Angeles Times, January 11, 2010
Barnes, Brooks. "With New Films, CBS Charts Tough Middle Course." New York Times, January 19, 2010
https://csimarket.com/stocks/compet_glance.php?code=CBS
Revenue and profit website: https://revenuesandprofits.com/how-cbs-makes-money/
http://investors.cbscorporation.com/news-releases/news-release-details/cbs-corporation-reports-first-quarter-2018-results
https://www.the-numbers.com/movies/franchise/Woman-in-Black-The#tab=summary
https://deadline.com/2009/11/sony-to-market-distribute-cbs-films-overseas-dvds-18851/
https://www.youtube.com/watch?v=MP1RqLgyGv0&t=30s
https://www.hollywoodreporter.com/news/leslie-moonves-donald-trump-may-871464