iHeartMedia Inc. owns, as well as operates, over 858 radio stations and serves more than 150 markets throughout America. (iHeartMedia) Formerly known as Clear Channel Inc., iHeartMedia was founded by Lowry Mays and B.J. McCombs in 1972. With over 22,000 employees, 17,900 domestic employees and 4,400 international employees, it isn't hard to imagine how big iHeartMedia Inc. is. (iHeartMedia). The company's corporate office is located in San Antonio, Texas. By delivering music, news, talk, sports, and other content to diverse audiences across various platforms, iHeartMedia Inc. is the leading media company in the United States. (iHeartMedia).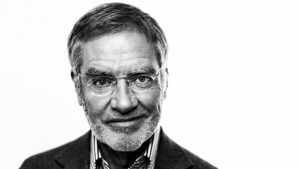 The Chairman and CEO of iHeartMedia, Inc., is Bob Pittman. Pittman started working in radio as an on-air announcer at the age of fifteen. (iHeartMedia) From there, he went on to program several stations, including, but not limited to, WNBC in New York. (iHeartMedia) Pittman took over as CEO in 2011, replacing Mark Mays and eventually becoming chairman as well. (express news) Pittman has had a very busy and successful career. He is also known for his role as Co-founder and programmer that led the team that created MTV. (Syracuse University News) As well as being credited for getting Nickelodeon back on its feet when it was transitioning to a failing network. While Pittman has only been heartmate's CEO for four years, he isn't new to this industry. He has gained plenty of experience and knowledge since the age of 15 and he has many more successful years to go with iHeartMedia.
iHeartMedia's goal has always been to provide various content such as music and news to audiences from all over through different platforms. They've been very successful by having over a quarter of a billion listeners. (iHeartMedia) Subsidiaries of iHeartMedia include Premiere Networks, Katz Media Group, Total Traffic and Weather Network, and more. Premiere Networks syndicates more than 90 radio programs across the country. Katz Media Group has over 4,000 radio stations. They are the leading media representation company in the country. TTWN provides transit, traffic, and weather information and is the leading company in doing so in the United States. (iHeartMedia). iHeartMedia Inc. owns major radio stations such as KIIS-FM, KOST-FM, and KFI-AM. (Los Angeles Times) iHeartRadio, radio, and music streaming services, is also owned and operated by iHeartMedia. (Billboard).
iHeartMedia's top competitors include Entercom, Townsquare Media Group, and Cumulus. Entercom was founded in 1968 and its headquarters are located in Bala Cynwyd, Pennsylvania. Of iHeartMedia's total revenue, Entercom generates 16 percent of that revenue. Cumulus was founded in 1997 and has its headquarters located in Atlanta, Georgia. Townsquare Media group was founded most recently, in 2009, and its headquarters are located in Greenwich, Connecticut. Of iHeartMedia's total revenue, Townsquare generates 7.55 %. (Owler). Other competitors include Urban One, one of the biggest radio broadcasting companies, News Corp, also a large media company, and Salem Music Group, which like Urban One, is a radio broadcasting as well as a magazine and book publishing company. (craft)
iHeartRadio's secondary competitors include many streaming services such as Pandora, Spotify, Deezer, and SiriusXM. Their top competitor being Pandora. As far as the amount of revenue these companies are bringing in, SiriusXM and Spotify tie for first place while iHeartRadio is the 5th highest growing radio company at $376.9 million. (Owler).
Like many media companies, iHeartMedia is a successful business and generates its revenue through advertisers, investors, and events. Advertisers can present their products to a wide audience through radio, digital products, billboards, street furniture, and events hosted by hearted. (iHeartMedia). iHeartMedia hosts several popular events throughout the year. These include Alter Ego, iHeartRadio Music Awards, iHeart Country Festival, iHeartRadio Music Festival, iHeartRadio Fiesta Latina, iHeartRadio Jingle Ball, and iHeartRadio Theater. These events are held all over the country so that iHeartMedia can connect with its consumers through live performances. (iHeartMedia). This is also where iHeartMedia generates its revenue. Another revenue generator is iHeartRadio's all access. All access with iHeartRadio allows customers to play any song, have an unlimited amount of skips, listen offline and more. For a total of $9.99 a month, listeners can have all this and more.  (iHeartRadio) .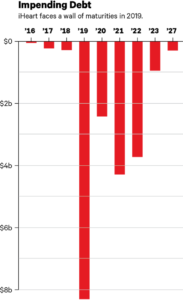 Recently, iHeartMedia has had to file for bankruptcy due to its $20 billion debt. (NPR) The company inherited this debt from its leveraged buyout in 2008 of Clear Channel Communications. (Express-News). Although iHeartMedia owns 90 percent stake of Clear Channel Outdoor, one of the world's largest outdoor advertising companies, they were not included in the bankruptcy filing. 2018 hasn't been such a great year in terms of revenue for iHeartMedia. The company went public with its revenue Tally back in July of this year. Their three-month revenue tally was a total of $853.3 million, which was 3.5 percent less than 2017. Their six-month revenue tally was a total of $1.597 billion, which at first glance may seem like a good number but isn't for iHeartMedia. Their six-month tally was 2.6 percent less than their figures in 2017. (Billboard).
Although iHeartMedia has suffered financially, it is still the leading media company in the United States. With a successful and renowned CEO and Chairman, Bob Pittman, iHeartMedia is in the right hands. The next time you get in the car, instead of putting on your favorite playlist from Apple Music, try turning to your favorite radio station.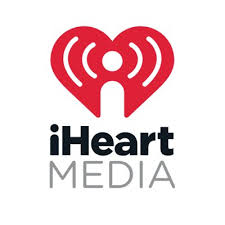 Citations
Craft.co. (n.d.). Retrieved September 12, 2018, from https://craft.co/iheart-media-inc/competitors 
Flanagan, A. (2018, March 15). IHeartMedia Turns The Dial To Bankruptcy. Retrieved September 15, 2018,
https://www.npr.org/sections/thetwo-way/2018/03/15/593868390/iheartmedia-turns-the-dial-to-bankruptcy
Hendricks, D. (2018, March 15). IHeartMedia financial troubles embedded in 2008 leveraged buyout. Retrieved September 16, 2018, https://www.expressnews.com/business/local/article/iHeartMedia-financial-troubles-embedded-in-2008-12241990.php
IHeartMedia. (n.d.). Retrieved September 12, 2018,  https://www.iheartmedia.com/iheartmedia/index
IHeartMedia. (2018, September 15). Retrieved September 16, 2018,  https://en.wikipedia.org/wiki/IHeartMedia
IHeartRadio Plus & All Access – Upgrade to a Free Trial. (n.d.). Retrieved September 30, 2018, https://www.iheart.com/upgrade/ 
IHeartRadio Competitors, Revenue and Employees – Owler Company Profile. (n.d.). Retrieved September 17, 2018, https://www.owler.com/company/iheart
Loughlin, W. (2017, November 13). MTV co-founders, Now iHeartMedia Executives Pittman, Sykes to Visit Newhouse School Nov. 16. Retrieved September 15, 2018,  https://news.syr.edu/2017/11/mtv-co-founders-now-iheartmedia-executives-pittman-sykes-to-visit-newhouse-school-nov-16/
Maddaus, G. (2017, March 01). IHeartMedia CEO Bob Pittman's Efforts May Not Be Enough to Avoid Looming Bankruptcy. Retrieved September 29, 2018,  https://variety.com/2017/biz/features/bob-pittman-iheartmedia-1201998074/
PDX_Promos, I. (2014, October 03). IHeartMEDIA – Digital Sales Overview. Retrieved September 27, 2018, from https://youtu.be/n8rRldA5-80 
Phoenix, I. (2016, October 13). 2016 iHeartMedia Company Overview. Retrieved September 30, 2018, https://youtu.be/-mL-kyOftYc 
Schneider, M. (2018, August 01). IHeartMedia Reports $853M in Quarterly Revenue, Says Chapter 11 'Moving Along as Anticipated'. Retrieved September 28, 2018,  https://www.billboard.com/articles/business/8468098/iheartmedia-quarterly-revenue-chapter-11-update