Starting with a name inspired by the Greek history of 300 Spartans that fought against thousands or Persian soldiers (Adegoke, 2013), 300 Entertainment was founded in 2013 by a powerhouse trio with decades of experience in the hip-hop music industry. Kevin Liles, Lyor Cohen, and Todd Moscowitz have experience between them from companies such as Def Jam Records, Warner Music Group, and KWL Management. The group was brought together after they collectively decided to leave Warner Music and received a five million dollar investment capital from Google.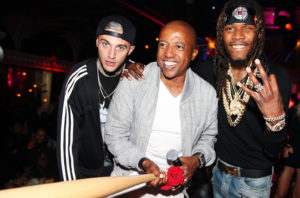 Their goal was to form a foward thinking, "data-driven" (Rys, 2017) American record label with a mission statement that promises to create "high quality, risk taking, enduring music based content" (300 Entertainment, 2018) 300 Entertainment took off as the new independent creative hub in the industry. Since its conception, 300 Entertainment has continued to attract industry forces.
The executive team expanded to include Selim Bouab, with previous experience at Asylum Records, Def Jam Records, and Sony. Bouab was vital to the signing deals with artists Fetty Wap, Dae Dae, and Tee Grizzly and Bouab's own label, Unauthorized Entertainment will continue to operate from within 300 Entertainment, which has received their investment in return (Music Business Entertainment, 2017).
300 Entertainment started off strong signing the up and coming rap group from Atlanta, Migos in 2014 (Ortiz, 2018). In that same year, they also signed Young Thug and plenty of others like Hopsin, Famous Dex and Rich the Kid through 2018. With the signing of many up and coming, independent artists and focusing on slowly molding their artists and the recent success of streaming in the digital age, Forbes saw 300 Entertainment as the future of music business (Ross, 2018). According to Forbes, Cohen explained at a panel discussion that 300 Entertainment "simply represents a period of time where, if you're well coordinated and synchronized, and you have a deep common bond—and our common bond is music—that we could, with a very small force, actually do an extremely competent job" (Greenburg, 2014). The idea with 300 Entertainment was to create a boutique "independent" music collective, a gang of enduring content creators (Sheffield, 2016).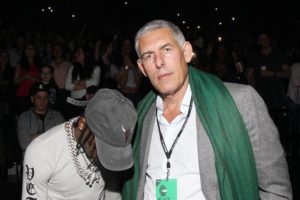 Even with the early success, Cohen, the former CEO of Warner Music Group and one of the founders of 300 Entertainment left the company in 2016 for a position as YouTube's Global Head of Music (Klinkenberg, 2016). Cohen joined YouTube in an effort to negotiate with record labels over streaming rights, a move YouTube is hoping will place them along side of companies like Spotify and Apple Music.
Six weeks after the departure of Cohen, Moscowitz also left the record label he started less than five years ago (Ivey, 2016). Moscowitz left 300 Entertainment to start his own new record label, Cold Heat Records and later renamed it to Alamo Records where he signed the artist Smokepurpp (Hunter, 2017).
While 300 Entertainment's strategy of signing independent artists and slowly molding them worked at first, it came spiraling down very quickly. In an interview with Complex, Offset of Migos stated "300 was the biggest hurdle. They tried to hold us against our will. It wasn't never no in-house hurdles we ever had, like where it had been a problem. With 300, that was the biggest thing, going through times and situations with them" (Ortiz, 2018).
On the tail end of releasing a hit song called "Look at My Dab," a song the group feels started the dance craze of the same name, Migos executive Pierre "Pee" Thomas "It was one of the biggest songs of that year," he says. "We had the athletes doing it. You had the kids, everybody was doing it. But you ain't see it on iTunes, you see what I'm saying? We couldn't sell it. We couldn't stream it." Pee went into it further claiming that 300 Entertainment wanted to limit how often and when they could release new music. "For 18 months, we couldn't sell no product. Whatever that was already out, that was already on iTunes or whatever, that was cool, but anything that we was putting out, it was like we was shackled down" (Ortiz, 2018).
Migos isn't the only artists that are unhappy with their deals at 300 Entertainment. Early this year, Rich the Kid claimed that 300 Entertainment is "the worst, worst label ever" in an Instagram video. Along with other explicit complaints about the label, Rich the Kid urged young independent artists to "not sign with 300 Entertainment" (Resnikoff, 2018).
300 Entertainment fired back at Rich the Kid though with Lyon Cohen telling The Breakfast Club "I don't know what his problem is. He should call me. He has my number. You see if he calls me." Cohen lated stated "He's gonna have a hard time because we don't play that" (Kyles, 2018). 300 Entertainment lost the battle though and quickly lost both Migos and Rich the Kid.
With the lose of multiple high-profile artists and hits to its public image still seems to be pushing through. In an interview with Billboard, Liles, the only remaining founder of the company, talked about expanding the label into pop and country music. "We want to be the great American record label, not just the great American rap or country or pop label," referring back to the companies mission statement. "We want to be a house for artists that want to have a voice and tell a great story with an edge." Talking about how 300 Entertainment adapts to the changing industry, Lyles stated "Get the artists and then build the pipes." Because once you have art, ­everything else will come." (Rys, 2017).
                                                                                                             Work Cited
"300 Entertainment." 300 Entertainment, 300ent.com/ 2018.
Adegoke, Yinka. "Lyor Cohen Unveils 300, New 'Content Company' with Atlantic Deal, Google Backing and Ex-Warner Brass (From the Magazine)." Billboard, Billboard, 1 Nov. 2013, www.billboard.com/biz/articles/news/record-labels/5778094/lyor-cohen-unveils-300- new-content-company-with-atlantic.
Greenburg, Zack O'Malley. "Lyor Cohen's 300 And The Dawn Of The Moneyball Record Label." Forbes, Forbes Magazine, 28 Feb. 2014, www.forbes.com/sites/ zackomalleygreenburg/2014/02/28/lyor-cohens-300-and-the-dawn-of-the-moneyball- record-label/#4c068a2a77b3.
Hunter, Christopherhunter. "Smokepurpp Signs to Todd Moscowitz's Alamo Records – XXL." XXL Mag, 9 Mar. 2017, www.xxlmag.com/news/2017/03/smokepurpp-signs- record-deal/.
Ivey, Justin. "Todd Moscowitz Leaves 300 Entertainment to Start New Label – XXL." XXL Mag, 10 Nov. 2016, www.xxlmag.com/news/2016/11/todd-moscowitz-leaving-300- entertainment-start-new-label/.
Klinkenberg, Brendan. "Lyor Cohen Leaves 300 Entertainment To Join YouTube." Complex, Complex, 1 June 2016, www.complex.com/music/2016/09/lyor-cohen-youtube-global- head-music.
Kyles, Yohance. "Lyor Cohen Slams Rich The Kid For Dissing 300 Entertainment Label." AllHipHop.com, AllHipHop, 1 Aug. 2018, allhiphop.com/news/lyor-cohen- slams-rich-the-kid-for-dissing-300-entertainment-label-Jf1slyqUK0a9b1EzSe5Qlg/.
Music Business Worldwide. "300 Entertainment Promotes Selim Bouab to SVP, A&R." Music Business Worldwide, 6 Feb. 2017, www.musicbusinessworldwide.com/300- entertainment-promotes-selim-bouab-svp-ar/.
Ortiz, Edwin. "Why Migos Left 300 Entertainment." Complex, Complex, 1 June 2018, www.complex.com/music/2018/02/migos-on-why-they-left-300-entertainment.
Resnikoff, Paul. "Rich the Kid Calls 300 Entertainment 'The Worst, Worst Label Ever'." Digital Music News, 7 Aug. 2018, www.digitalmusicnews.com/2018/07/31/rich- the-kid-300-entertainment-worst/.
Ross, Danny. "This Record Label Is What The Future Of Music Business Looks Like." Forbes, Forbes Magazine, 27 Sept. 2018, www.forbes.com/sites/dannyross1/2018/09/27/this- record-label-is-what-the-future-of-music-business-looks-like/#721803aa7cca.
Rys, Dan. "Kevin Liles Talks the Past, Present and Future of 300 Entertainment: Exclusive." Billboard, Billboard, 6 Apr. 2017, www.billboard.com/articles/business/ 7751460/kevin-liles-300-entertainment-interview-lyor-cohen.
Sheffield, Mike. "Lyor Cohen Predicted the Rise of Young Thug. Here's What He Thinks Is Coming Next." Complex, Complex, 1      June 2016, www.complex.com/music/2016/08/ lyor-cohen-300-entertainment-interview.