The Beginning and the Basics
Pandora Media is the country's oldest and most influential internet radio platform. Its beginnings and success are grounded in one basic thing which is a passion for music. Founder Tim Westergren had a quandary almost 20 years ago: there are undiscovered musicians everywhere, but there was no way to listen to them anywhere, anytime. Westergren knew there was a way to get them noticed through taste and access rather than chance, he just had to invent it. Pandora Radio was technically founded in 2000, but its real launch was in 2005 after a larger-than-life startup story.
More on, and from, Westergren:
It was made possible by The Music Genome Project, also created by Westergren. The Music Genome Project is what makes Pandora work:
Starting with an initially meager list of variables, Westergren hired a team of analyst-musicians to listen to music and populate a database with descriptions related to a song's melody, harmony rhythm, basic instrumentation, and hundreds of other attributes…"genes" that compose a sort of musical DNA for each song. Certain parts of each DNA string a link to other songs with similar qualities. The Project's analysts also identified several broad "Genomes" that Pandora treats as genres (Shelley p. 139)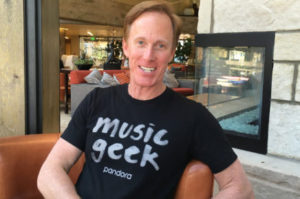 Current President and CEO Roger Lynch was brought on in 2017 to use his varied experience in tech, media and business to try and improve on their financial performance and general evolution as a company. With SiriusXM's acquisition of Pandora, the executive leadership change is not clear. HQ is in Oakland, CA, with bases all over the country for both music and advertising specificity. Pandora Media employs about 1900 (Bloomberg 2018) analysts, engineers, composers, media influencers and music experts.
Business Model
Through streaming radio and on-demand music services Pandora provides curated stations based on musical taste, preferences and user feedback through a variety of channels. Pandora Media has expanded their service to apps, cars, smart TVs and even refrigerators (Hamp, p. 82). If you have internet, you have Pandora.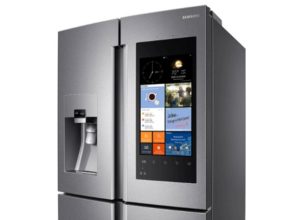 In 2017, the service streamed 20.6 billion hours of content, and had 74.7 million active users during the trailing 30-day period and, of these, 5.48 million were paid subscribers. Since first launching their ad-supported service in 2005, listeners have created over 12 billion stations (Pandora Annual Report 2018).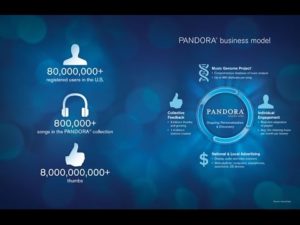 In addition to The Music Genome Project, Pandora Media uses the Next Big Sound ("NBS") Platform. NBS is a principal provider of online music analytics and insights with tabs on artists around the world. Sources range from Facebook, Instagram and Twitter to Wikipedia, YouTube and Vevo.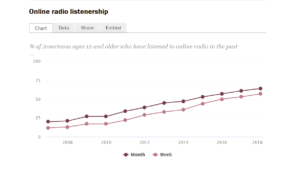 The use of internet radio is still growing, and with that comes competition. Spotify, Apple Radio, Amazon Music and Google Play Music are rising contenders in the internet radio/streaming field (Glantz 2016; Pandora Annual Report). The merger between Pandora and SiriusXM created the largest satellite/internet radio company, and now it is in direct competition with iHeartRadio, the largest broadcaster conglomerate. iHeartRadio has 100M users, Pandora and Sirius combined customer base would be close to 110M.
Pandora's suppliers are record labels, from kingpins SONY BMG, Universal Music Group, Warner Music to independent labels like Epitaph and ANTI- (Merlin Blog 2014). Unsigned artists can also get their music on Pandora, staying true to the original motivation. Pandora also requires the licenses from music publishers, which has created some tension in Pandora's history. Here's a shortened infographic breaking some of this down: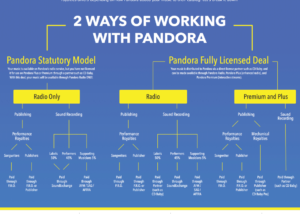 Revenue Model
Pandora Media's revenue model is based mostly on advertising revenue, with subscription fees as the second strongest stream. Listeners have three options for Pandora Radio: Pandora, Pandora Plus and Pandora Premium. Pandora, the free option, makes up 73% of their revenue through advertising support (Annual Report 2018).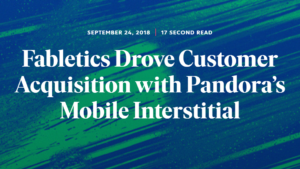 From HP to Fabletics, major companies use Pandora to reach customers. Pandora also offers the option for small businesses to use Pandora to target their communities. They have also increased creativity with their audio ads. Aside from the national advertisements, what gets aired is based on geography, demographics and station genre.
Pandora Plus and Pandora Premium are the subscription options for listeners. Plus ($4.99/m) gives you unlimited personalized stations, up to 4 stations offline listening, unlimited skips and replays, higher quality audio and listening without ads. Premium ($8.99/m) is on-demand subscription which allows unlimited skips/replays, searching and playing any song, personalized playlist creation and download capabilities for offline listening.
Assets
The content Pandora streams is primarily music; to do so, they obtain the licenses from, and pay royalties to, copyright owners and any of their agents for each recording and underlying musical work (Pandora Annual Report 2018). In 2015, after some critical trial and error, Pandora decided to work directly with performing rights organizations ASCAP, BMI and SESAC. This has led to an increase in pay for artists, a huge concern with streaming.
Westergren on the deal:
Another huge asset Pandora has is AdsWizz, one of the biggest digital/audio advertising technology firms. In this $145M deal, Pandora's goal is to develop further and enhance their own capabilities. AdsWizz's "software suite" includes a variety of ad technology capabilities, including dynamic ad insertion, advanced programmatic platforms, ad campaign monitoring tools, and more. This aligns with current CEO Roger Lynch's investment in ad technology as part of a wider business development initiative (Perez 2018). A big gain for SiriusXM.
What's Next?
SiriusXM's acquisition of Pandora Media has prompted a bit of industry buzz and worry. However, there is a certain level of harmony in the two types of radio services coming together. What bothers people about SiriusXM, Pandora fixes.

"SiriusXM said the combined company will let it leverage exclusive content and programming with Pandora's ad-supported and subscription tiers to create unique audio packages while also using SiriusXM's extensive automotive relationships to drive Pandora's in-car distribution," (Christman 2018).
Consolidation in the audio business, from record labels to AM/FM radio, is a trend that continues to grow. How can any of the "little guys" make it in an environment that favors mega-corporations? How will SiriusXM/Pandora's competitors match the level of presence now that one company has both internet and satellite radio as a major unified business?
It's fairly clear that the acquisition will not change the main thing that drives Pandora: that we can always listen to the music we love. $3.5 billion aside, that's priceless.
References
Bary, E. (2018, September 25). Here's why the Sirius/Pandora merger may not happen. Retrieved from https://www.marketwatch.com/story/heres-why-the-siriuspandora-merger-may-not-happen-2018-09-25
ibid. Pandora is for listeners who won't pay for Sirius, according to Sirius. Retrieved from https://www.marketwatch.com/story/pandora-will-be-for-listeners-who-wont-pay-for-sirius-according-to-sirius-2018-09-24
Christman, E. (2018, September 27). How the SiriusXM-Pandora deal would impact the music business. Retrieved from https://www.billboard.com/articles/business/8477166/how-siriusxm-pandora-deal-impact-music-business
Eule, A. (2018, September 28). Why sirius wants pandora. Retrieved from https://www.barrons.com/articles/why-sirius-wants-pandora-1538179201
Fabletics Drove Customer Acquisition with Pandora's Mobile Interstitial (2018, September 24). Retrieved from https://www.pandoraforbrands.com/success-story/drive-customer-acquisition
http://press.pandora.com/file/4247784/Index Company review of Pandora Media, Inc. (2018, September 15). Retrieved from https://www.bloomberg.com/research/stocks/private/snapshot
Glantz, M. (2016). Internet Radio Adopts a Human Touch: A Study of 12 Streaming Music Services. Journal Of Radio & Audio Media, 23(1), 36-49. Online.
Hamp, A. (2011). Fridges, Fords and phones: How did Pandora end up in everyone's box? Advertising Age, 82(3), 2-2. Online.
Kurzer, R. (2018, August 28). Pandora rolls out new dynamic, sequential and short-form audio ads. Retrieved from https://martechtoday.com/pandora-rolls-out-new-dynamic-sequential-and-short-form-audio-ads-223350
Maloney, P. (2015). Origin Story: The Founding of Pandora Radio. Retrieved from https://www.startupgrind.com/blog/origin-story-the-founding-of-pandora-radio/
Merlin Network. (2014, August 6). Merlin and Pandora partner to help independent labels and artists grow their business. Retrieved from http://www.merlinnetwork.org/news/post
Pandora Signs Licensing Agreements with ASCAP and BMI. (2015, December 22). Retrieved from https://www.ascap.com/press/2015/12-22-pandora-licenses-ascap-bmi.aspx
Perez, S. (2018, March 21). Pandora doubles down on ad tech with acquisition of AdsWizz for $145 million. Retrieved from https://techcrunch.com/2018/03/21/pandora-doubles-down-on-ad-tech-with-acquisition-of-adswizz-for-145-million/
Pew Research Center. (2018, July 12). Trends and Facts on Audio and Podcasts | State of the News Media. Retrieved from http://www.journalism.org/fact-sheet/audio-and-podcasting/
Rau, N. (2015, December 23). Pandora strikes deals with BMI, ASCAP. Retrieved from https://www.tennessean.com/story/money/industries/music/2015/12/22/pandora-strikes-deal-bmi-ascap/77745318
Robley, C. (2017, November 6). How Pandora royalties really work: a complete guide [infographic]. DIY Musician Blog. Retrieved from https://diymusician.cdbaby.com/music-rights/collect-royalties-pandora-plays/
Shelley, A. (2009). Digital Media Review. Notes, 66(1), second series, 138-142. Retrieved from http://www.jstor.org/stable/40539441
Szalai, G. (2018, September 26). After buying pandora, will SiriusXM make a deal for Live Nation? Retrieved from https://www.hollywoodreporter.com/news/buying-pandora-will-siriusxm-make-a-deal-live-nation-1147218
Whitney, L. (2013, September 18). Pandora scores legal victory against music publishers. Retrieved from https://www.cnet.com/news/pandora-scores-legal-victory-against-music-publishers/