In the Academy Award winning film Hugo (Scorsese, 2011), George Melies speaks to his audience, "My friends, I address you all tonight as you truly are; wizards, mermaids, travelers, adventurers, magicians… Come and dream with me." When watching a Pixomondo product, the audience is invited to do just that: dream. They are invited to a visual experience that brings their most fantastical visions right before their eyes. Pixomondo is an international visual effects house that is known for developing revolutionary effects for projects ranging from film, television, theme park entertainment, interactive digital content, as well as global marketing campaigns. This type of work is often admired, but rarely do the viewers know the technicians behind the brilliant images on our screens. Visual effects are no longer bound to traditional viewing experiences, and it is because of companies like Pixomondo, that a new era of visually stunning storytelling has arrived. Pixomondo has managed to navigate through the tumultuous landscape of the VFX industry while bringing some of the entertainment world's most dazzling images to audiences in new and creative ways.
The company was founded by current CEO, Thilo Kuther, in Frankfurt, Germany back in 2001. Over the past 17 years, Pixomondo has expanded into an internationally renowned VFX firm. Since the company's inception, Pixomondo has spanned across three continents with offices in Los Angeles, Toronto, Vancouver, Stuttgart, Frankfurt, Beijing, and Shanghai (Pixomondo Locations). The company has earned credits on recent films such as Wonder Woman (Jenkins, 2016), Star Trek: Into Darkness (Abrams, 2013), and Bridge of Spies (Spielberg, 2015). Its star studded client list includes companies like Adidas, Nike, Mercedes, and BMW (Pixomondo Creative). Following a majority investment by Mayfair Equity in mid 2018, Pixomondo comes in with around 550 employees world wide, and was recently valued at $65 million (Carolyn Giardina, 2018). Pixomondo's work hasn't gone unnoticed as it has garnered an academy award for Hugo, as well as a pair Emmy for its contributions to HBO's Game of Thrones (Pixomondo IMDB).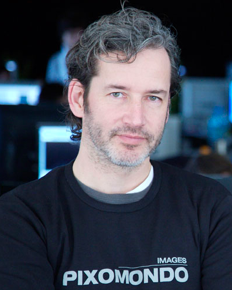 In recent years the visual effects industry has become incredibly volatile when it comes to revenue streams. Pixomondo's business model is straightforward as it provides digital effects for clients for a negotiated price. A traditional flat bid model requires Pixomondo to pitch the suppliers their services for a certain project, how they envision the story, and what it would cost to bring that vision to screen. However this process has become complicated in recent years because of how competitive the market for VFX has become. If Pixomondo's competitors, such as Rhythm and Hues, Spin VFX, or Method Studios, offer similar work for a lower price then Pixomondo will most likely lose out on that opportunity. This has been compounded by external tax subsidies that has enticed studios to employ cheaper, foreign VFX houses instead of U.S. based companies (David S. Cohen). In terms of feature films, the VFX industry has changed into an "incredibly low-margin business" (Marsh, 2018).
The uncertainty of the VFX industry has forced firms to reevaluate their own models. Pixomondo hasn't suffered to the same degree as other VFX firms, such as Rhythm and Hues, who famously declared bankruptcy in the same year they won an Academy Award for their work in Life of Pie (Lee, 2012). Pixomondo's has been able to fend off serious financial woes because its offices are in countries like Germany, Canada, and the U.K., which offer substantial tax subsidies. These financial breaks allowed for Pixomondo, and other German VFX houses, to find bigger budget work in Germany. Babelsberg Studio's Charlie Woebcken notes that Ninja Assassin (McTeigue, 2009), gave Pixomondo, "the juice to open a facility in Berlin…", and gave them the international resume needed to work on major budget projects (Horn, 2012). Pixomondo has clearly benefited from their European origins as well as from their international reach. The executive producer for Hugo, David Crockett, preferred Pixomondo's international setup because they could move work to their Chinese offices and not send it to, "some random visual-effects house in India that we have no connection to" (Karpel, 2012). The company has developed a system to ensure each of their offices is able to grow. Ari Karpel writes that on larger projects, "each office keeps 60% of the work it originates and shares the rest with other satellites, preventing any office from growing beyond a sustainable level once a big job ends" (Karpel, 2012). However, Pixomondo is not immune to the uncertain business model of the VFX industry as the company was forced to close their offices in Shanghai, Detroit, and London back in 2013 in order to cut costs. Kuther also noted that Pixomondo would be deemphasizing their involvement in the feature films due to the revenue difficulties in the VFX industry (Waxman, 2013). Even though Pixomondo has been forced to make cuts in the past, the company has continued to operate on a highly competitive level.
VFX houses don't necessarily own intellectual property, however Pixomondo has garnered serious recognition as a main contributor in HBO's Game of Thrones. The massive fantasy drama is heavily dependent on the visual effects that bring the fictional world of Westeros to life. It has also become common practice for production companies to employ multiple VFX houses to handle larger projects. Pixomondo is 1 of 16 special effects companies that has worked on the series (Game of Thrones IMDB Company Credits). However Pixomondo has been able to stand out in the crowd due to their incredible effort in creating Daenerys Targaryan's dragons. By analyzing the anatomy of a chicken, technicians were able to create realistic and terrifying dragons (Johnson, 2015). The stunning work on Game of Thrones earned Pixomondo two Emmy's in both 2013 and 2015 (Pixomondo IMDB).
Pixomondo's recent endeavors have worked to disrupt the parameters of traditional storytelling and has helped usher in a new era of visual experiences. Over the past few years Pixomondo has developed 4D Motion Ride films in China, 360° Dome films in Las Vegas, as well as a new "virtual aquarium" in New York City's Time Square (Themed Entertainment). The aquarium, developed by National Geographic, places viewers on an underwater adventure through the the world's vast oceans. Thilo Ewers, the VFX supervisor on the project stated, "We have pushed the boundaries of visual effects by not only developing dozens of unique photo-real underwater species in a completely immersive environment, but also by taking on one of our biggest challenges to date: creating 3D stunning media in 8k resolution at 60 frames per second" (National Geographic, 2017). Companies like Pixomondo are continually producing high quality visual content that is reinventing how audiences conceive visual storytelling.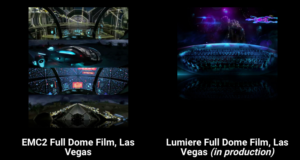 References: