Columbia Broadcasting System (CBS) was founded in 1929 as a radio broadcasting company, to later become one of the three largest television networks (Erickson). At first, when they were entering the age of television, there were fewer homes using television (HUTs), making the market easier to measure. It was considered to be a luxury, which is why in this era, CBS was called the "Tiffany Network," after the luxury brand Tiffany and Co. (Erickson). CBS really got its start when it was taking radio stars and moving them to television, to adapt to the changing times. Through what is occasionally referred to as "poaching," some major stars from other networks went to CBS instead in the early 1940s (CBS). CBS was able to establish itself as one of the leaders of the television world and is still consistently in the top three networks to this day.
CBS is headed by Joseph Ianniello, the current and acting CEO, Kelly Kahl, the president of CBS Entertainment, and Thom Sherman, the Senior Executive Vice President of CBS Entertainment. This came after the contentious CEO Les Moonves stepping down after being offered $100 million of his $180 million severance package, due to sexual assault allegations brought to light by investigative journalist Ronan Farrow (Feldman). Along with them is a board of executives that help run and operate CBS Entertainment and all of their companies made of up of twelve other executives (CBS). CBS is based out of New York City, with global market reach. CBS employs 16,730 people with roles ranging from local markets to national (Forbes).
CBS Broadcasting's business model creating original content and sending some programming into syndication. CBS owns the CBS channel which produces news, sports, and television programming. Along with this, they own affiliate stations, with  WLYNY-TV in New York and KCBS and KCAL in California being three of the largest (CBS). Additionally, they own additional television networks including the CW, Showtime and the Smithsonian Channel, a joint venture between CBS and the Smithsonian (CBS). Their content is diverse, ranging from scripted television to reality shows to news. These programs can be viewed on a traditional television, through streaming on their website, and through their app. In this way, CBS can access the market in different ways, not only through the traditional television set up. CBS consistently puts out popular television shows, garnering top spots in the ratings.
According to an article in the Hollywood Reporter in July of 2018, CBS held five of the ten top-rated broadcast slots for the audience 18-49 (Hollywood Reporter). Three of these slots were filled by the incredibly popular Big Bang Theory. According to Deadline, Big Bang Theory was the most watched scripted series for its 2017-2018 season with an average viewership of 18.6 million (de Moreas). The Big Bang Theory is in its final season, it leaves behind a legacy of syndication, and the offshoot Young Sheldon to the CBS world.
In addition to broadcasting and owning these television shows, CBS also has a studio where they produce some of the shows that are aired on their stations. These shows are not just airing on their channels, either. They have content that is being produced for Netflix, such as Insatiable, Unbelievable and Dead to Me. Additionally, they produce a spin-off from the Late Late Show with James Corden, Carpool Karaoke, which streams on Apple Music (CBS).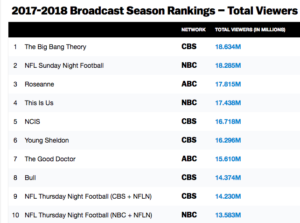 CBS' revenue model is mostly through selling advertisements, affiliate and subscription fees. Programs like Young Sheldon and its parent show, The Big Bang Theory are consistently at the highly rated and high ratings lead to higher advertising rates.  According to Nielsen, Big Bang Theory and Young Sheldon both made it into the top ten programs in 2017 (Nielsen). Both of these television shows feature Jim Parsons who is both well-known and heavily tied to this show, making him more tied to CBS as an entity. For syndication, CBS has CBS Television Distribution, (CTD), one of the leading syndication companies that also produce their own content, such as Judge Judy, Dr. Phil, Wheel of Fortune and Jeopardy (CBS). A smaller but still significant portion of their revenue is licensing and merchandising of their licensed content (CBS).
Forbes indicates CBS' revenue for the first two quarters of 2018 was $141 billion with $20.6 billion in assets (Forbes). Additionally, CBS employs in the neighborhood of 12,000 people. Popular shows like the NCIS extended franchises make money by airing new episodes and episodes in syndication. As expected, the money made from advertising the primary way money comes into the company. Coming in second most often is content licensing, with affiliate and subscription fees coming in third (Statista). Through things like Nielsen ratings, CBS is able to comprehend how many people watch different programs they offer, which help determine how much ad sales go for.
Recently, CBS has gotten into a situation with a potential merger between CBS and Viacom. CBS and Viacom were once together, a relationship that ended in 2005, and CBS offered $12 billion to purchase and remerge (Porch). With the recent departure of Moonves, the merger appears to be more likely as there are different people in charge of making the final decision (Sherman). Additionally, it is believed that the companies will merge because they are worth more together than apart in the new media landscape (Sherman).
Bibliography
CBS Corporation. Businesses Information. (https://www.cbscorporation.com/businesses-detail/#Smithsonian-Channel). Accessed: 9/14.
CBS Corporation. CBS Press Express. (https://www.cbspressexpress.com/cbs-entertainment/executives). Accessed: 9/14.
CBS Ranking. Forbes. (https://www.forbes.com/companies/cbs/#6268d15f4811)
Columbia Broadcasting System. New World Encyclopedia. (http://www.newworldencyclopedia.org/entry/Columbia_Broadcasting_System#The_conglomerate). Accessed 9/16.
De Moraes, Lisa, and Hipes, Patrick. 2017-2018 TV Series Ratings Rankings: NFL Football, 'Big Bang' Top Charts, Deadline: Hollywood. (2018). (https://deadline.com/2018/05/2017-2018-tv-series-ratings-rankings-full-list-of-shows-1202395851/)
Erickson, Harold. CBS Corporation: American Company. Encyclopedia Britannica. (https://www.britannica.com/topic/CBS-Corporation). Accessed 9/15.
Porch, Scott. The CBS-Viacom Merger Fight is Wall Street's Best Soap Opera. The Daily Beast. (https://www.thedailybeast.com/the-cbs-viacom-merger-fight-is-wall-streets-best-soap-opera). Accessed 9/17.
Reuters. CBS Corp (CBS). (https://www.reuters.com/finance/stocks/company-officers/CBS). Accessed: 9/14.
Sherman, Alex. With Less Moonves Out, CBS is more Likely than Ever to Join Viacom. CNBC. (https://www.cnbc.com/2018/09/10/moonves-cbs-departure-makes-viacom-merger-more-likely.html)
"Broadcast TV." Hollywood Reporter 18 July 2018: 26. Business Insights: Essentials. Web. 24 Sept. 2018. URL (http://bi.galegroup.com/essentials/article/GALE%7CA548561508?u=nysl_ce_syr)