Intro
With 93% of Americans listening weekly, radio is the number 1 medium in terms of reach (Cunningham, 2015). Entercom Communications, is one of the country's two largest radio broadcasters, covering close to 90% of people 12+ in the top 50 markets (Entercom, 2018).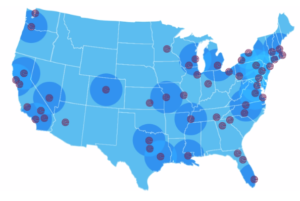 In 1968, radio was established by then, Joseph M. Field founded Entercom in Pennsylvania. In the beginning, Entercom developed slowly due to its financial constraints and ownership limits set by the federal regulations. However, during the 1990s, as the regulations on the stations ownership were deregulated, Entercom started to enlarge its markets by purchasing a number of different stations. In 1999, Entercom announced its acquisition of the Sinclair Broadcasting Group, which was its largest purchase to date. Also, the acquisition made Entercon the fifth largest broadcast company in the United States (Pederson, 2004).
In 2017, Entercom merged with CBS Radio, which gave Entercom access to operate in 23 of the top 25 markets and became the second largest broadcast company in the United States as well (Littleton, 2017).
Assets
As the second largest radio company in the United States, Entercom Communications owns 235 radio stations across 48 media markets (Fernandez, 2017). In addition to its radio stations, Entercom also owns Radio.com and Eventful by merging with CBS Radio. Radio.com is a integrated digital platform which provides audience with broadcast content anytime and anywhere through the mobile app, website and automotive dashboards. While Eventful is the largest local events community which provides people with online access to ticketing options of different kinds of events (Entercom, 2018).
Entercom also has Get My PERKS, a local e-commerce marketplace. It offers great deals and discounts on products and services to its local members from national and local businesses (Entercom, 2018).
Business Model
Entercom owned 235 stations and these stations are classified by their format, such as news, sports, talk, classic rock, urban, adult contemporary, alternative and country (Rhoads, 2017). It focuses on broadcast station and digital platform which provides broadcast content, therefore, it attracts local people and connects local digital marketing with station events. Owning to its advantages in this phase, local, regional and national advertisers are willing to buy its advertising time in varying length.
As Entercom is the second largest broadcast company in the United States, its biggest competitor is iHeartMedia, which is the top company in the radio industry. Though they were competitors, iHeartMedia and Entercom proceeded a strategic station exchange with each other in order to comply federal ownership regulation. Under the agreement, iHeartMedia acquirse seven radio stations from Entercom and Entercom acquires 10 stations from iHeartMedia (iHeartMedia, 2017).
Revenue Model
The primary source of revenue for Entercom is the sale of advertising time to local, regional and national advertisers and national network advertisers who purchase spot commercials in varying lengths (Entercom,2017). Another revenue source is from station-related digital product, such as Radio.com, which provided integrated digital advertising solutions. This kind of avenue is increasing in recent years.
To operate the company, Entercom incured fees from PROs to license their public performance of the musical works contained in each PRO's repertoire. In January 2017, Entercom obtained an interim license from GMR to avoid any infringement claims by GMR for using GMR's repertory without a license (Entercom,2017).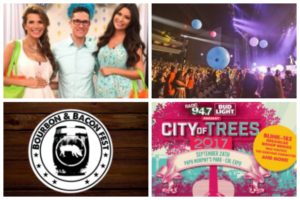 To promote competitiveness, Entercom chooses to emerge with or purchases different stations. For example, in 1995, it paid $24.5 million for three radio stations, KGON-FM, a classic rock station, KFXX-AM, an all-sports station, and KMUZ-FM, a modern rock station. And in 1999, it spent $824.5 million for Sinclair Broadcasting Group (Boehlert, 1995).
Entercom also hold special events, such as Baby Love in Miami, B96 Jingle Bash in Chicago and Bourbon & Bacon Fest in Boston. These events not only attract new listeners to the stations, but also bring in extra revenue through ticket sales and merchandising.
Marketing Strategy
Field stated in an interview that, "We have accomplished essentially everything we set out to accomplish and we are extremely happy with what we have been able to do to date." From 1980s, Field has already set a long-term plan for Entercom to enlarge its marketing at both the corporate and station levels. The company reorganized the formats of stations to appeal to main audience. In the 1990s, when the Federal Communications Commission eased the regulations on the ownership of multiple radio stations, Entercom took this chance to expanded its presence in the market.
Nowadays, the strategy of Entercom could be conclude as scale, efficiency and operating expertise. (i)Scale- Provide effective integrated marketing solutions for customers by incorporated audio, digital and experiential assets. (ii).Efficiency- Attract target audience by creating high-quality content. Build special radio station brand through creating live, original and local audio content. (iii). Operating expertise- Cultivate talented people to develop the strongest radio stations.
With these strategies, Entercom aimed to attract large and targeted local audiences and offer advertisers access to a highly effective marketing platform.
References
Rhoads, Wayne.(2017). Zolmax.com:Analyzing Pandora Media (P) and Entercom Communications Corporation (ETM). Retrieved from
https://search-proquest-com.libezproxy2.syr.edu/docview/1909259050?pq-origsite=summon&accountid=14214
Pederson, Jay. (n.d.). Entercom Communications Corporation History. International Directory of Company Histories, Vol. 58. Retrieved from
http://www.fundinguniverse.com/company-histories/entercom-communications-corporation-history/
Cunningham,Hailey. (2015, July 6).Radio—Yes, Terrestrial Radio—Is the No. 1 Medium in Terms of Reach. Observer. Retrieved from
https://observer.com/2015/07/radio-yes-terrestrial-radio-is-the-no-1-medium-in-terms-of-reach/
Fernandes, Bob. (2017, November 15). Entercom-CBS Radio merger passes another milestone with shareholder vote. The Inquirer. Retrieved from
http://www2.philly.com/philly/business/entercom-cbs-radio-merger-passes-another-milestone-with-shareholder-vote-20171115.html
Boehlert, Eric.(1995, 21 January). Entercom's Growth Slow, Steady. Billboard. Retrieved from https://books.google.com/books?id=uAsEAAAAMBAJ&pg=PA71#v=onepage&q&f=false
iHeartMedia.(2017). iHeartMedia Announces Strategic Station Exchange With Entercom Communications in Seattle, Boston, Richmond and Chattanooga Markets. Retrieved from
https://www.iheartmedia.com/press/iheartmedia-announces-strategic-station-exchange-entercom-communications-seattle-boston
United States Securities and Exchange Commission.(2017). Entercom Communications Corp. Retrieved from
https://entercom.com/wp-content/uploads/2018/05/10-K-for-Company-Website.pdf
Entercom.(2018). Retrieved from https://entercom.com/media-brands/
Fernandes, Bob. (2018, September 14). 'We are big believers in the city and we want to be part of it,' says Entercom CEO. The Inquirer. Retrieved from
http://www2.philly.com/philly/business/entercom-field-radio-move-philly-cbs-radio-kyw-20180914.html